Product image 1
Product image 2
Product image 3
Product image 4
Product image 5
Product image 6
2019 ATCTEK- CNC Machine PACKAGE
Build your own custom Auto Tool Change setup, please choose accessories.
ATCTEK Construction & ACC.

4ft x 8ft x 1ft Z height
6 zone vacuum table grid
X, Y helical rack & pinion
Z axis German ball screw
Linear ball bearing precision rails
Rolling cabinet system housing
6 piece linear tool change
6 piece ISO 30 tool holders
6 piece ER32 collet nuts
Various collets included
Tool holder vice
ATCTEK Machine electronics
4 Yaskawa servo motors
4 Yaskawa servo drivers
24,000 RPM-11hp HSD ATC Spindle
Syntec 6mb on board Control

Command languages G code
AC220V, single phase, @ 50a
ATCTEK Stats
Max rapid speed 1200 in/min
Max working speed 1200 in/min
X, Y, Z position accuracy ±0.001"
X, Y, Z travel accuracy ±0.001"
Warranties Include:
Lifetime hardware support from Hytek Tools
One year parts warranty
Custom tech videos on request
30 Day Buy Back Guarantee!
You Will Need:
Adequate Air Supply 95psi at 5 cfm
Forklift to offload (5000 lbs - 6ft forks)
Dust Collection - 4" port (1hp minimum)
Some time and dedication to learn
---
See this baby in action. Click for video!
what factors would determine a preferred garntry size, I assume this is spindle clearance from the table

Hello and thnak you for the question, this is delayed response but I hope it helps you anyway. We run 12" gantry clearance and travel on our machines as standard issue which takes care of about 98% of our clientile. Users wanting to produce large foam carvings might want to go 18" or 24".  Thanks againa nd look forard to workign with you!
Customer Reviews
10/25/2020
Richie H.
United States
Performance and support
They did exactly what they said they would do. Very pleased with their machine. Best CNC I have ever used. Easy to learn and operate. I was up and cutting material the day it was delivered.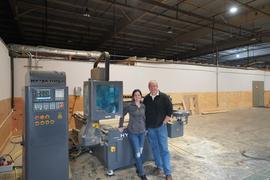 Thanks Richie, nice to hear from you! We would like to see any cool projects from you guys!
08/06/2020
Brandon R.
United States
Love my Hytek!!
Love my Hytek!! Jason and Mellisa are top Notch! -Originally submitted on Facebook July 28 2020 at 1:40 PM ·
Brandon! Thanks a lot for taking the time to write in here, mucho appreciated! We hope you guys are still turning out some more nice products on the Hytek ATCTEK Router!