2024 FIBERTEK™ Fiber Laser 5x10 | 2000w-12000w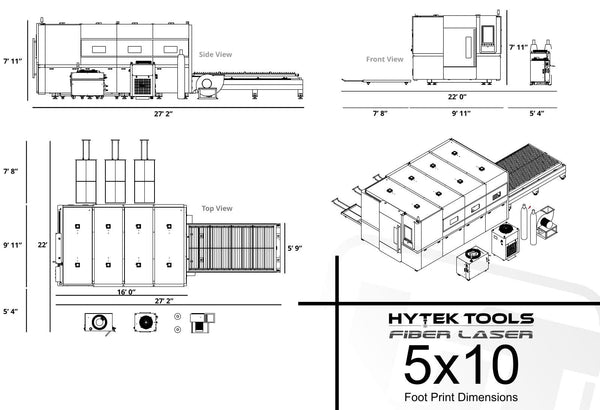 Watch Video: 6kw Tuning to Delivery...
Table Construction & Highlights

5ft x 10ft cut dimensions
Frame 1/2" welded steel tube
Aviation grade aluminum gantry 
Blade knife table surface
X, Y axis helical rack/pinion gears
Z axis ball screw
HiWin linear guide rails & bearings 
16,000 lbs combined table weight
40 ton pressed 6061 laser car gantry material
Laser Cut Metals
Laser cut a variety of sheet steel, and most all highly reflective metals like:
Stainless Steel

Mild Steel

Aluminum

Carbon Steel

Titanium

Nickel Alloys

Gold & Silver

Brass

Bronze

Copper
Components Electronics/Motion
2000w-6000w fiber laser (see capability chart below)
Yaskawa servo drivers & motors 
Schneider electrical components
S&W water chiller
Machine Stats
Cut speed up to 4000in/min
X, Y, cut accuracy ±0.001"
X, Y, repeat accuracy ±0.001"
Control Software & Language
Cypcut - Intuitive Laser Controller
CAD Program on request
Training in CAD-CAM included
Required Power
2000w-12000w AC 220v-600v three phase
Warranties Include:
Lifetime hardware support from Hytek Tools
Two year parts warranty bumper to bumper
3 Year Laser Source Warranty (Best in Industry)
Custom tech videos on request
You Will Need:
Forklift to offload (10,000lbs+ 9 ft forks) 
or x2 5000lbs fork lifts, or 6 ton overhead crane
Extras Include:
Hand delivery by Hytek Tools Certified Technicians
On site operation demonstrations
All inclusive and all included in the listed PRICE - ALWAYS! No surprises!
We are starting a project that requires precise cutting. We will start by using mild steel 3/8" thick. We would also like to be able to cut up to 1" thick material. What laser would you recommend and do you have a machine that would be self feeding? Thank you !

Hello! Thank you for the question. We would recomend a 6kw so that you can get your 1" cut when needed, and good fee rates for the 3/8". We have a dual table that exchanges in 10 second and a rack system if you need it. The rack can be up to 8 sheet shelves.

What is the minimum powered fiber laser required to cut 1 inch mild steel? Not looking for it to be cut fast, just the ability to cut it when needed, would mostly use the unit to cut 30-22GA galvanized mild steel 95% of the time.

I would say a 6kw minumum. Thanks for the question Jason, sorry for the delay. Sometimes these page questions slip through the cracks here.  Please email curtis@hytektools.com to learn more!

Do you have a 2000 kw available at your shop? If not do you have a fiber setup for demo? My shop is about 2.5 hour drive I would like to drive up to see it cut 1/4 inch stainless and aluminum. We are looking to purchase probably this year and really like the fact your local. If you can send me more info on the 2000w enclosed model that would be great.

Hi Ted, We do currently have some lasers on the floor, but will be shipping out this week. Sorry the window is small to show machines typically.

Do you have any model of the fiber laser ready for shipment? If not what is the average lead time? And what is the max wattage you offer and how much will it effect price? Also does the laser come with programming software if not do you offer one?

Hello Scott, thanks so much for the question. We have listed up to 4000w on this offering, though we can go up to 12000w and beyond in special circumstances. Anything over 4000w, please just email for quote to jason@hytektools.com Thank you again and have a great day!

How thick ss and aluminum will this cut? Do you offer a 4,000 watt?. Where is this made?.

Hello and thank you for the message inquiry!  2000w will give you decent results in 1/4" aluminum and SS. 3/8-1/2" carbon steel.  IPG Photonics is a US company and Hytek are assembled in Minnesota - USA.