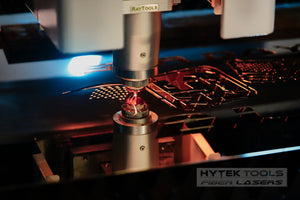 Cut Steel | Laser Accuracy
Increase Production Immediately
Hytek Tools Fiber Laser Cutters will cut stainless steel, mild steel, titanium, aluminum, nickel, copper, brass and more. It does so with extreme accuracy and with kerfs down to .001" and at speeds up to 4000+ IPM! Cut paper thin metals or up to 2" thick steel plate!
Do you fabricate? If Yes, then chances are 99.9%, that YOUR COMPANY, needs a FIBER LASER
Bottom Line is; Fiber laser will exponentially increase productivity!

Welcome to the hytek Tools Family!
Hytek Tools was founded by Melissa Jones and her husband Jason Jones. Melissa, Jason, and the rest of the Hytek Tools family focus on sharing automation equipment and knowledge, using CNC and Fiber Laser Cutter technology in production. We're located in Minnesota, which centralizes us to most of YOU, the clientele! We have installed hundreds of machines all across the USA, and are waiting to hear from you today about your new Hytek Tools machine.
Hytek Tools will do the heavy lifting,
while you operate your business!