2024 FIBERTEK™ Fiber Laser 5x10 | 1000w-6000w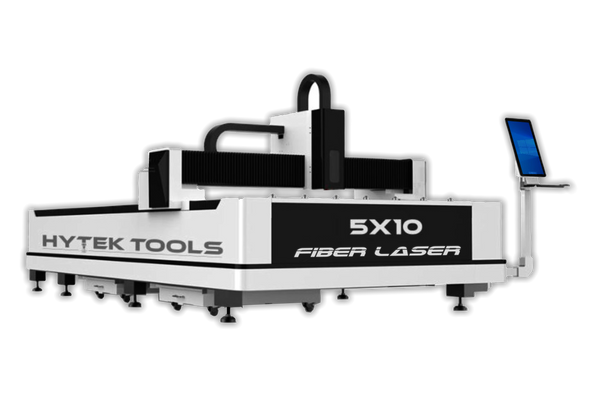 See this baby in action!
Table Construction & Highlights
5ft x 10ft cut dimensions
Frame 3/8" welded steel tube
Aviation aluminum gantry 
Blade knife table surface
X, Y axis helical rack/pinion gears
Hiwin linear guide rails & bearings 
6000lbs table weight

Laser Cut Metals
Laser cut a variety of steel and most highly reflective metals:
Stainless Steel

Mild Steel

Aluminum

Carbon Steel

Titanium

Nickel Alloys

Gold & Silver

Brass

Bronze

Copper
Machine Electronics
1000w-6000w fiber laser (see capability chart below)
Yaskawa servo drivers & motors 
Schneider electrical components
S&W water chiller
Required Power
1000w AC220V single phase @ 60 amp
2000w-6000w AC 220v-600v three phase
Machine Stats
Cut speed up to 4000in/min
X, Y, cut accuracy ±0.001"
X, Y, repeat accuracy ±0.001"
Warranties Include:
Lifetime hardware support from Hytek Tools
One year parts warranty
Custom tech videos on request
You Will Need:
Forklift to offload (6,000 lbs+ + 8ft forks)
Extras Include:
Hand delivery and setup by Hytek Tools Certified Technicians
On site basic operation demonstrations
ALL inclusive in PRICE - ALWAYS!
Is the work area exactly 60"x120"

Hello Clint, thank you for the question!  It hovers right around that mark like to the T. We have been know to move sensors and blocks around to eek out an extra 1/2" here and there! Do you need beyond 60x120?

What would be the lead time on this machine?

Thank you for your interest in our fiber laser machines. Currently the build to deliver time is 10 weeks. Let us know if we can help you with some funding? Maybe we can get you 0 down and no payments for 3-6 months.

Would I be able to run a 3kw machine on a Rotary phase converter? If so what size converter would I need?

Hello and thank you for the interest! We can provide the convertor as well if you do not already have one. 220v single phase at 100amp would be nice to run the setup. Is that possible?  Please check in anytime with matt.voss@hytektools.com or (218) 454-3875.

We currently handle .070 through .500" thick carbon steel, 85ksi ultimate yield; Would a 4k laser be enough to penetrate at speed? Or would a 6k laser be necessary? I am looking into alternatives to our plasma / punching CNC machines.

While the 4k would do the job, the 6kw would be like 35% faster. Please check with matt.voss@hytektoools.com for some specific feed speed rate esitmates. Thank you for the interest in our Fiber Laser!

At the moment I only have single phase power. Can a 1 kw laser operate on 220 volt single phase. If so how many amps would it require?

Hi there, thanks for the question Bob!  Yes we can build you one that will operate on 220v single phase, with a max load for everthing not exceeding 50 amp.  Does this help?    If you have anymore questions, we would love to try and help you out! Pleasefeel free to try us at sales@hytektools.com or 218-454-3875


Does this fiber laser require a full enclousre around it?

Hi Frank, thanks for the question. It is highly recomeneded to have an enclosed are/room for this machine.

Are you able to provide a system for cutting 6' x 12' sheets? Also, what are the main differences other than price between the open and enclosed systems? Why would I choose the more expensive enclosed system over the open design?

Hello and thank you for the questions!

Yes, we can build 6x12 machines. Please email jason@hytektools.com for a quote on exactly what you would like, please just include material type and thickness. A 6x12 is a standard size though, just not listed on the website.

The closed systems are known to be more safe and tidy. They give the ability to extract fumes better than an open table. They also keep prying eyes from looking at the laser while in operation, which can be very dangerous. 

Thank you again, would love to buld one for you!  6 months with no payments going on right now!

Is this machine turn key? Will information on what needs to be set up on site available before delivery? And is there at least a day of training on machine included when installed? Thank you!

Hi there, and thank you so much for your interest in a fiber laser from Hytek tools.  The answer is yes, yes, and yes.  :)  :)

What size laser are you thinking? We could move this conversation to email if you would like?  Thanks!!  jason@hytektools.com

Installation is included in the price?

Hello, thank you for the question! Delivery, and on-site operation demonstrations included in the USA.

what are the overall machine footprint dimensions? Is the the machine UL Listed?

Hello and thank you for the questions!  The footprint is roughly +8" on all sides of the work area. Plus add some space near the backend for chiller, oxygen or nitro tank, etc. UL, listing is possible on request.

How many amps of power do yo need for 4000w on 240 3 phase

Hi there, thanks for the question. It's 240V @ 72A on this particular machine, to operate everything including a typical exhaust fan.